GET LEAN IN 2019
Start 2019 active at Erasmus Sport. Between January 2nd and 31st you buy the all inclusive Erasmus Sport pass with a huge discount.
Get lean in 2019 with the Erasmus Sport pass! From January 2nd until January 31st you can get the all inclusive Erasmus Sport pass for only €125. Enjoy the Erasmus Sport facilities the fullest, including all our classes and the use of the gym, until the end of the summer. Unlimited access! Buy now online.
Already have a valid Erasmus Sport p
ass, without access to our gym, and you want to start 2019 right? Get lean in 2019! A special for all our current members; the fitness upgrade for only €40. This gives you unlimited access to our gym, on top of all the classes, until the end of the summer. Ask for this upgrade at our service desk.
Curious of what Erasmus Sport can offer you? Try it out for free!
Join us on the 14th, 16th or 22nd of January for free bodyfit and budo classes between 10.00-20.00h. Our employees will give you a tour and our trainers will motivate you during on our classes.
Want to know more about our gym? Come to our Fitness Fiesta on Friday the 11th,18th or 25th of January. A free work out for everyone. Join us between 19.30-22.30h and our instructors will show you everything our fitness has to offer, with some exciting beats and lights!
Special discounts for student organisations and employees.

Are you a member of one of the student organisations on campus Woudestein? Ask them about the special Erasmus Sport deal for an extra discount on our all-inclusive sports pass or take a look at our webshop.
For employees of the Erasmus University and Hogeschool Rotterdam we have special discounts, also available to their partners. Check our webshop, or as our service desk.
All our specials and the fitness upgrade are available between January 2nd and 31st, excluding deposit. The passes are valid until August 31,2019. You can buy our passes in our webshop, or at the service desk in the Erasmus Sport Center.
Regular prices
Here you find the prices of the Erasmus Sport pass. The pass is available in our webshop, you can pay by iDEAL and credit card, and there is also an option to pay it later at the service desk. You can pay at the service desk by MasterCard, credit card, iDEAL and cash. If you have any questions, mail us: info@erasmussport.nl.
Here you can find the prices which are valid from August 20, 2018.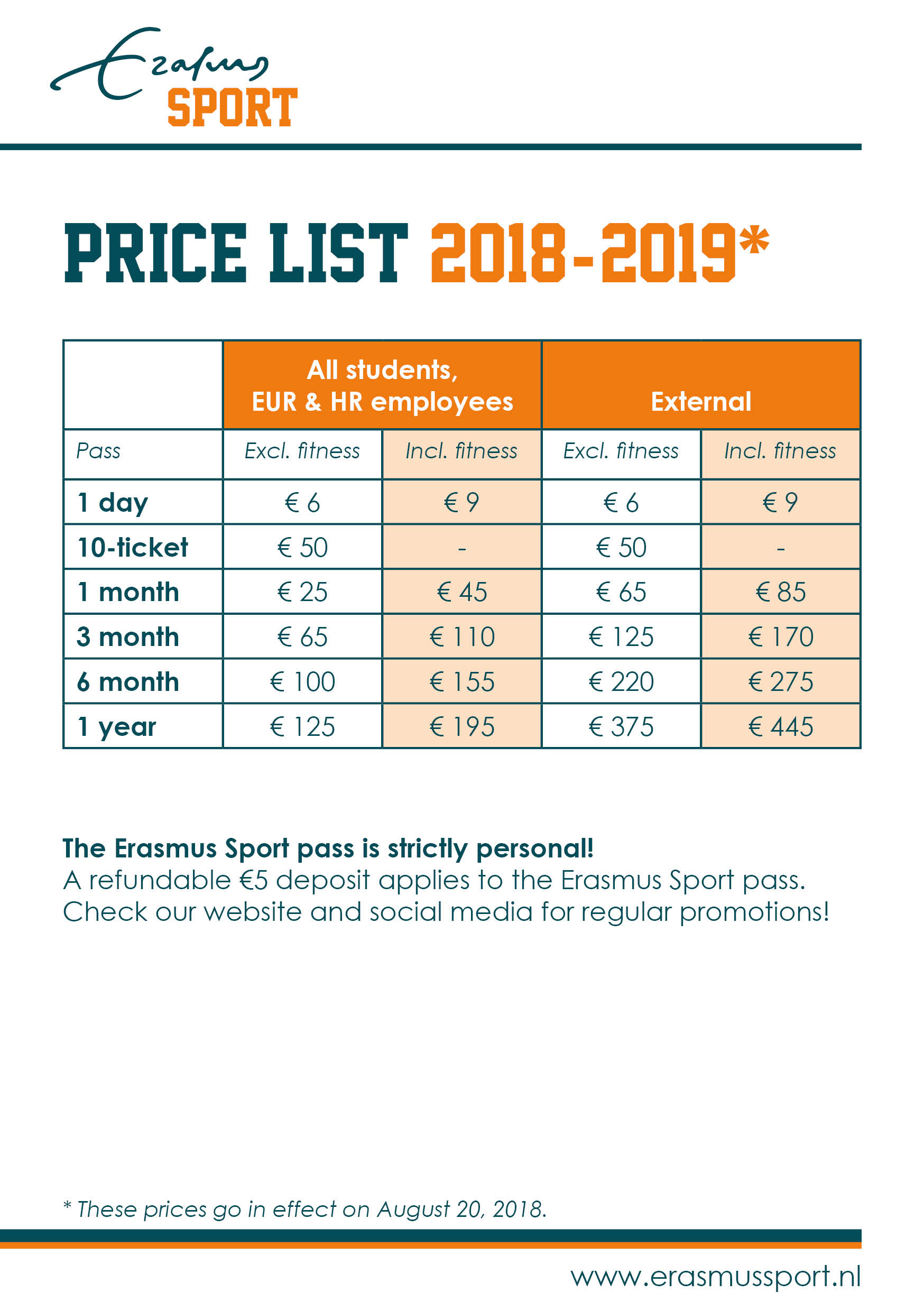 Discounts with your Erasmus Sport pass
The Erasmus Sport pass also offers great discounts throughout Rotterdam, from climbing, ice skating, padel and swimming: it's all possible with this pass! You can also join an Erasmus Sport student club, ask the club itself for more information.
Climbing wall Rotterdam

Buy a 10-times entry card at Klimmuur Rotterdam for only €75 with your Erasmus Sport pass!
Bring your Erasmus Sport pass and your valid student card.
Do you want to start with climbing? Contact Klimmuur for details on the student specials for the Introduction to Toprope Climbing Course.
Deal expires August 31, 2019.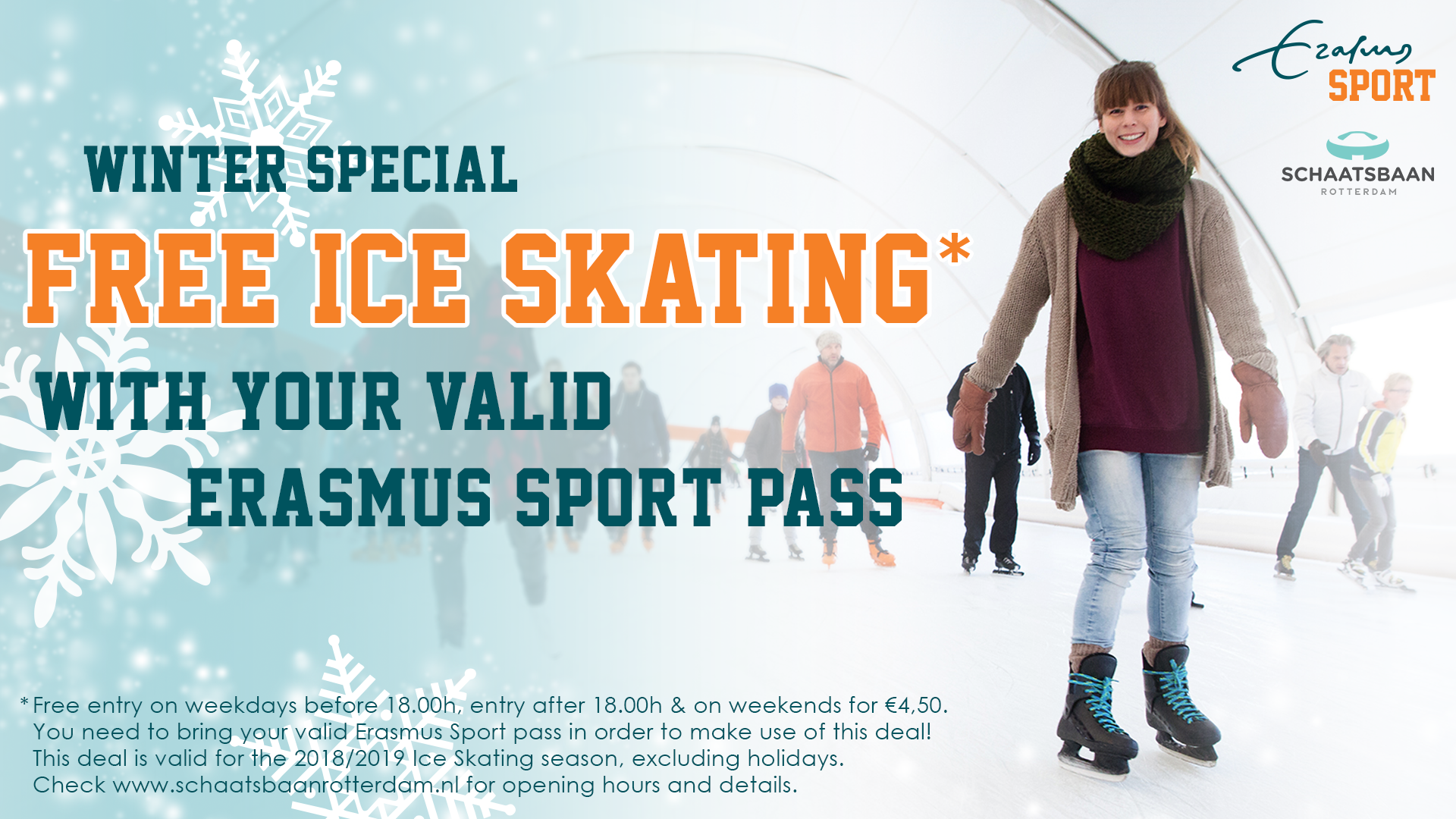 Ice skating rink Rotterdam
Free entrance between 09:00 and 18:00 during the week.
On other days, times and during the Christmas holidays, everyone with a valid Erasmus Sport pass can ice skate for only €4,50,-.
Renting of ice skating equipment is possible but for own account.
Go to the website of Schaatsbaan Rotterdam for the opening hours.
Deal is valid for the season of 2018-2019.

Bouldering at Neoliet

With your Erasmus Sport pass, you can boulder 2 times for free at Neoliet Rotterdam!
After these 2 times, you get another €2,- discount on the entrance price!
Deal expires August 31, 2019.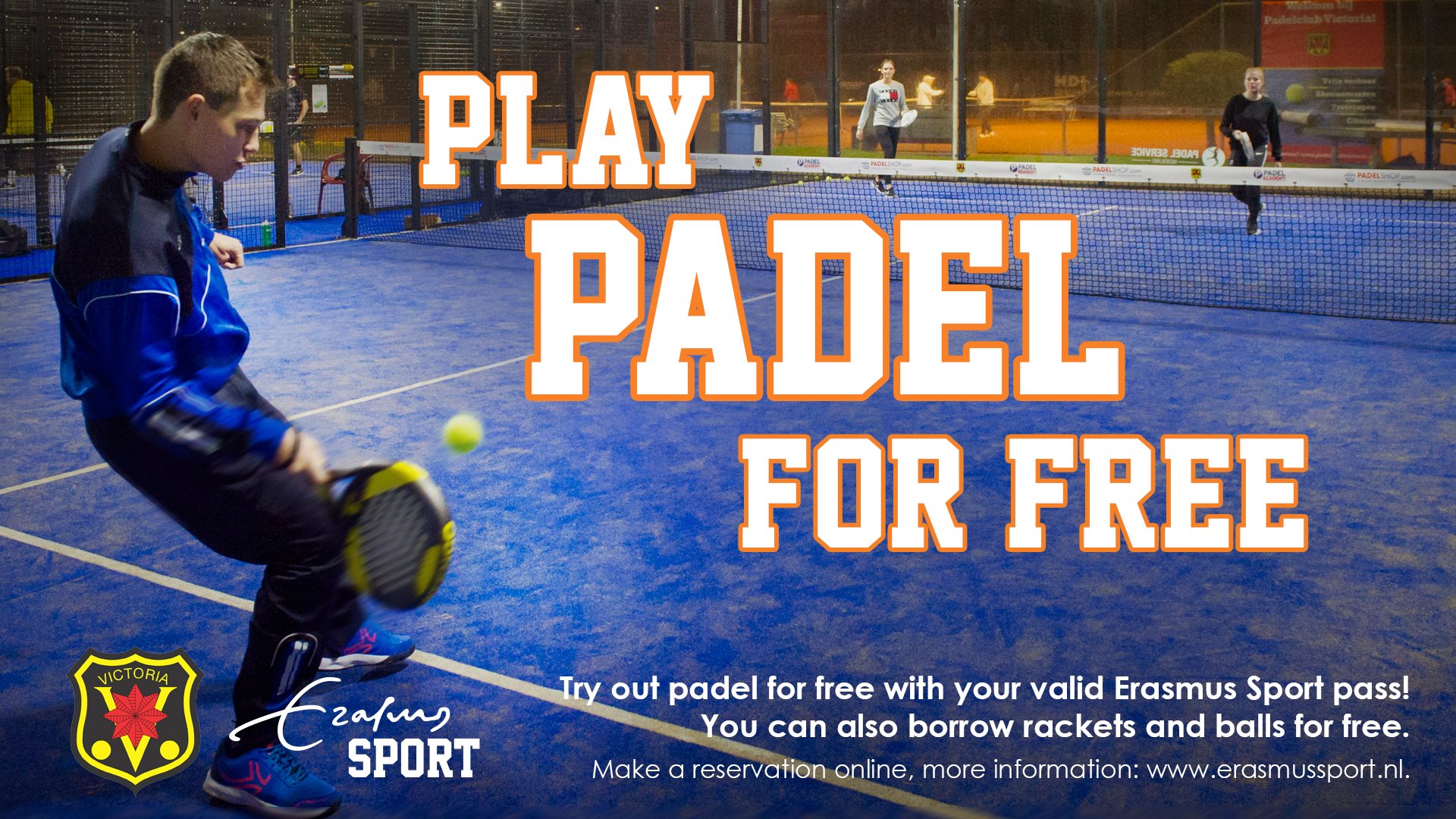 Padel
Play on the new Padel court at
Padelclub Victoria
for free!
Free entry, free rackets and free balls!
Deal expires August 31, 2018.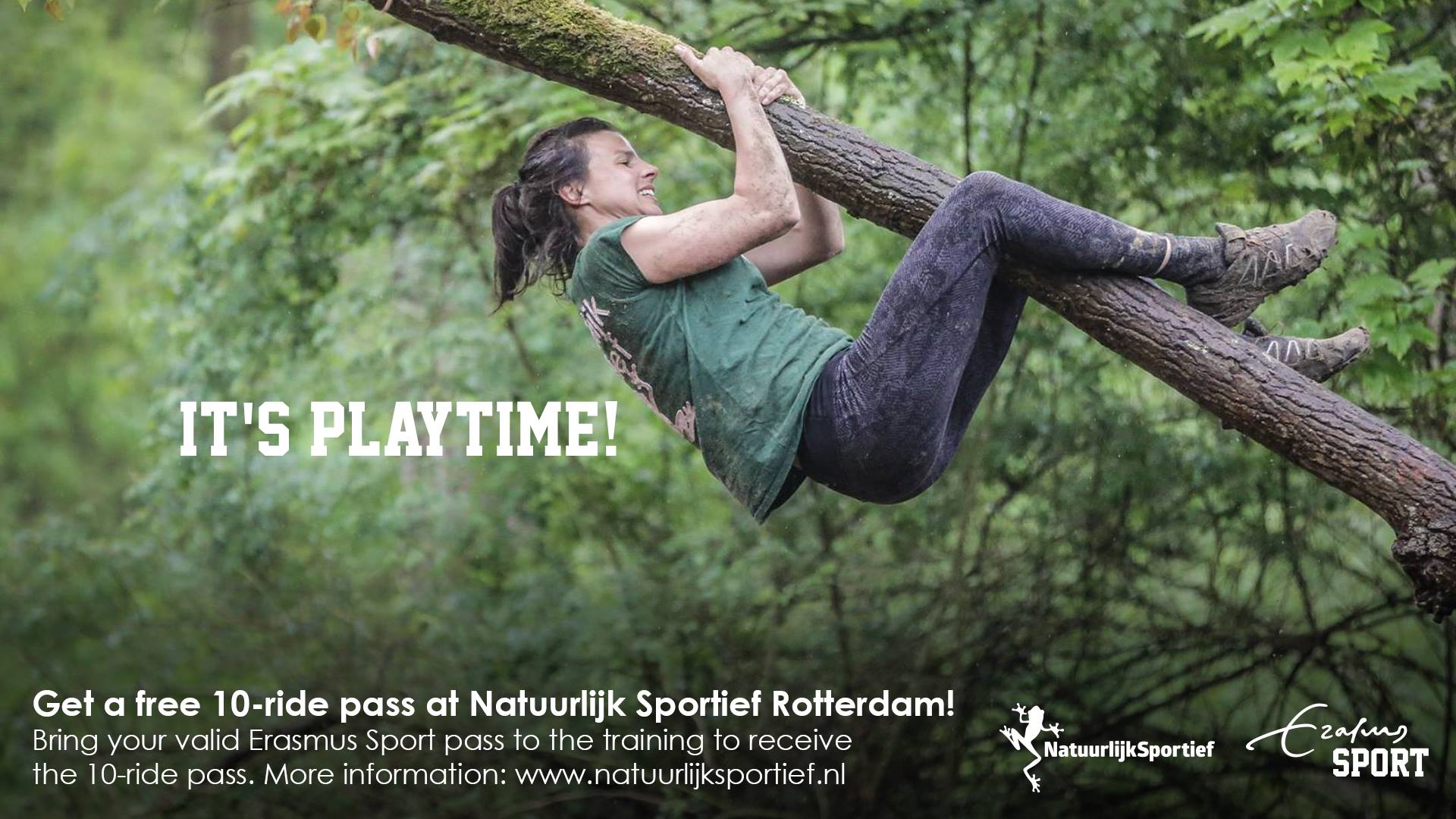 Natuurlijk Sportief

Free 10-ride pass for outdoor training at Natuurlijk Sportief.
Bring your sport pass to the training and receive an Erasmus Sport ride pass!
Deal expires August 31, 2018.
CrossFit Kralingen

2 times free entrance with your Erasmus Sport pass!
After this, you get a 5 euro discount per class (10 euros instead of 15 euros).
Take your Erasmus Sport pass with you.
Location: Anthonetta Kuijlstraat 117, 3066 GS Rotterdam
For more info go to the website of CrossFit Kralingen.
Deal expires December 31, 2018.
Personal training by EriSports

Try out personal training by EriSports!
You get 2 personal training sessions for only €19,- p.p. with your Erasmus Sport pass!
Interested? Mail to info@erisports.nl!
Swimming with discount at Oostelijk Zwembad

By showing your student pass, you can swim at Oostelijk zwembad for only €3,60!
Swimming during the opening hours.
Location: Gerdesiaweg 480, 3061 RA, Rotterdam.

Groene Weg
10% Discount at biological butchery de Groene Weg at the Mariniersweg
Delicious biological meat!
Crowned spareribs!
Barbecue specialist!
Rent for barbecues and attachments!
Van 't Hart
Special Erasmus Sport prices at Van 't Hart car rent at the Korte Kade.
Diverse models cars and busses!
Also moving boxes, hand trucks and tensioning straps!
Super ski deals including roof boxes and snow chains!
Super deals for Summer Road trips!
Pick up nearby the campus!
Popocatepetl
15% Discount on the whole bill at Restaurant Popocatepetl at Oude Haven
Super Mexican food with delicious cocktails!
With good weather one of the best terraces of Rotterdam!
Discount valid 7 days a week!
Not in combination with other discounts.