In our BodyFit program you will find plenty activities each day. Group lessons from Aerobics to Zumba, Indoor Cycling to Yoga, it's all here! With an Erasmus Sport pass you can join all these activities.
Check out this video to get an image of the bodyfit classes we offer
To see our Bodyfit schedule in full or to print it, please download the pdf: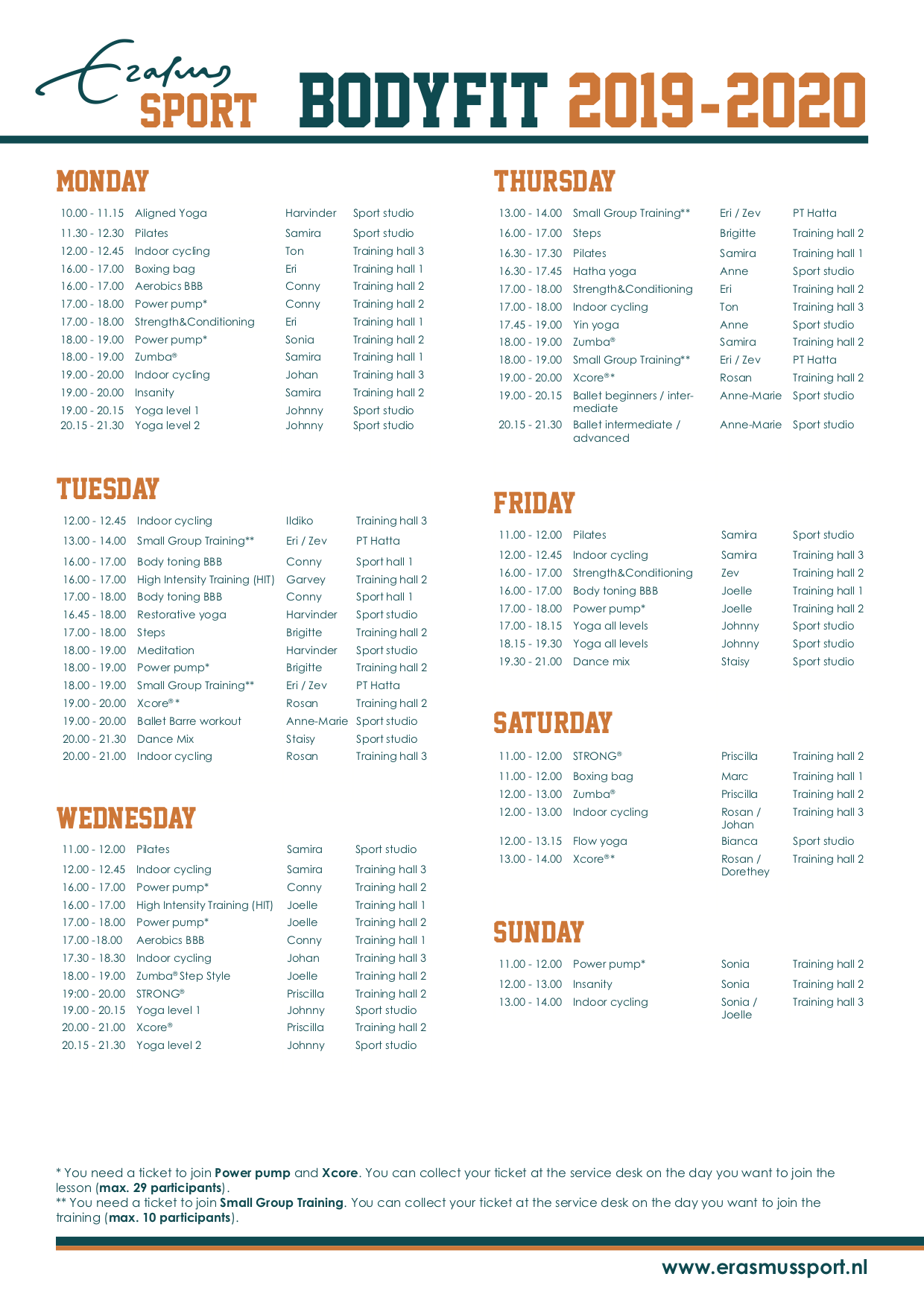 Aerobics
A very popular group lesson with stimulatory music, good for the heart and lung function. With aerobics you also train strength, flexibility and coordination; for sure because aerobics is beside our schedule in combination with BBB.
BBB
BBB is a low-impact activity, one without jumping. The main goal is to tighten the belly, buttocks and legs. For those strengthening exercises many different attributes are used like dynabands, weights and steps. BBB comes as a combination lesson back in the schedule, especially in combination with Body Toning and Aerobics.
Body Toning / BBB
Through small movements and repeating, the muscles will be strengthened. Because it's a fairly quiet workout but an intensive training, is Body Toning / BBB very suitable for people with back problems or people who are recovering from injury. 
STRONG®
Stop counting the reps. Start training to the beat. STRONG® combines cardio with plyometric training moves synced to original music that has been specifically designed to match every single move. Every squat, every lunge, every burpee, every jumping jack is driven by the music, helping you make it to that last rep, and maybe even five more. You will be challenged to the max. Do you dare?
Indoor Cycling
With exercises from seated to standing or 'jumping', but with the sprint as a climax. Because of the motivating music and stimulating instructor you can get the best out the training! With the primary result to improve your heart- and lung-functions, but also working on your buttock-, legs- and back-muscles by frequently contracting those muscles.
Steps
Steps is a total body training on music and suitable for everyone! It's aimed at improving condition, coordination and muscle tone. During the lesson you'll spend the time with stepping on and off the step in various sequences.
Zumba Step Style
Zumba Step Style combines fun with all the positive effects of Step Aerobics. It's a high intense training with the best of both worlds. So do you like dancing, having fun and Latin American music and are you in for a nice training? Pass by and join our course!
Zumba Step Style is accessible for everyone, so we hope to see you there!
Power Pump
An intensive BodyFit-activity where you'll be able to use weights from 1,25 to 10kg. Everything for muscles getting tighter, not for an increase in muscle mass. Pay attention, we have room for 30 participants each training. Because of limited places for Power Pump, you need an entree card which you can get at the service desk on the day of the class,  and for just one person. It isn't possible to reserve.
Strength & Conditioning
The workouts contain functional movements, so multiple muscle groups simultaneously at a relatively high-intensity. This way of working out gives you a very good, if not the best result. Because of the constant variety in the workouts, you keep challenging your body so you guarantee a constant improvement of your condition. The high-intensity ensures that you are making progress in all areas of fitness (endurance, strength, agility, explosiveness, speed) and continue to make progress!
High Intensity Training (HIT)
It's one of the heaviest training in our program, through the short efforts encouraged the fat burning. HIT is unsuitable for novice athletes. It's a big overload on your total body and requires a lot of energy. For beginners this can lead to injuries.
XCore®
An effective group class on the best beats in an upbeat tempo with the original XCO-trainer®, an aluminium tube filled with grit. At the beginning and at the end of each movement there will be an additional impact on all your muscles in your entire body. This effect is called the 'reactive impact' and is the way to strengthen your core muscles. Condition will be trained as well and you will be burning a high amount of calories. And all of this in about a 45 minutes work out, so your XCore® workout is short, effective, simple, dynamic and intense.  Because of limited places for XCore, you need an entree card which you can get at the service desk on the day of the class,  and for just one person. It isn't possible to reserve.
Insanity
A very intense workout to achieve your goal: conditional on your top! A total-body-workout where you train muscles you never knew they were there. In addition to increased muscle tone it also makes you sit tightly in your own skin.
Zumba
Zumba stands for fast movement and having fun. It's a combination of fitness and Latin American dances like Salsa, Merengue, Reggaeton, Sumba and Cumbia but than without complicated choreos. Zumba is one of the highlights in the BodyFit-program and it's a party every time!
Dance mix
Are you interested in dancing? If so, this is the right place to be! Hip-Hop, Jazz-Funk, Modern, great company and a lot of fun are waiting for you during this class! Come to the training and show everyone your moves!
Yoga
During the Yoga lesson widely used standard postures, asanas. The asanas make the body strong, slim and supple. It also ensures more energy, relaxation and stress reduction. Yoga is suitable for everyone, there are two level groups in our schedule. During the lesson they will also give adjustments or options so you can choose what best suits you.
Flow Yoga
Flow Yoga is also known as easy Power Yoga. It is a mixture of Hatha and Power Yoga. But a Flow Yoga class is more powerful than the static Hatha classes, as the teacher will guide you through a gentle but yet dynamic flow.  A flow class consists of a grounded warming up, sun salutations, stretching, core strengthening, balance, seats poses, pranayama (breath awareness) and meditation. This class is suitable for all levels so please feel free to join!
Restorative yoga
Restorative yoga is practice of passive healing. Restorative yoga sessions allow the body to slow down and relax in small number of asanas ( poses). Each pose is held for longer than in conventional yoga classes. The long holding of poses is often assisted with props such as folded blankets, bricks and bolsters to ensure the body is fully supported and so to allow the muscles to relax. Suggestion: take a big towel or blanket to support your relaxation towards the end of the class. 
Hatha Yoga
Is a form of yoga where the poses are held for a while. Emphasis is on strengthening the muscles and making them more flexible. In the practice, we focus on breathing, strength, flexibility, balance, stretching and relaxation. Hatha Yoga is a more calm practice, suitable for beginners as well as experienced yogis.
Ballet
Fun and dynamic ballet group lessons according to the Russian Vaganova method. Taught by Anne-Marie, a professional ballet teacher. A traditional ballet class with exercises at the barre, in the center and jump- and turn combinations. We will focus on style, movement and having fun. 
Pilates
A fitness system developed by Joseph Pilates, originally called Contrology by Pilates because this method actually assumes that the mental aspect and the physical one are of influence at each other. Control, concentration, precision, breathing and flowing movements are key words in this training. With an emphasis on core muscle groups.
Meditation
For a moment step out of your hectic world and take some time to chill your mind and body with this meditation class.
Meditation gives you a moment to slow down to achieve a calm and clear mind.
The last years meditation has become more mainstream. Scientific research has proven that meditation among other things reduces stress, reduces worrying, improves focus and concentration and makes you happier.
Aligned yoga
Alignment is the term we use in yoga asana to describe the precise way to do any given
pose in order to maximize its benefits. Alignment is intended to create a stable foundation for a safe practice, to allow the body to open in new ways, and to reduce the risk of injury. In Aligned yoga we will approach alignment with support of yoga props like blocks/ belts and blankets. Props help practitioners at all levels gain the sensitivity of a pose while receiving the benefits of the pose without overextending themselves. They allow students to practice asanas (postures) and pranayama (breath control) with greater effectiveness, ease, and stability.
Yin yoga
At Yin yoga, attitudes are held longer and most attitudes are sitting or lying on the yoga mat. Clothing advice is to wear easy-wearing clothes and to wear a sweater. For the end attitude, it is comfortable when you take a fleece blanket with you. The lessons are accessible for all levels.